I have always firmly believed that Make up is an Art form, and I am often offended when Makeup is looked upon as a lesser form of artistic expression. This is one of the main reasons why I am so delighted to see this collaboration between The Estate of Jean-Michael Basquiat and Urban Decay. It is like the Art world finally giving a nod to the world of makeup and doing so through the works of one of my favorite artists makes it all the more special for me. The fact that Jean-Michel was also such a true urban artist makes this pairing even more perfect. However, I can't help but wonder though if Jean-Michel would have approved of this commercial collaboration? Then again, I don't think that if Jean-Michel were still alive today that he would be the same Urban artist if he still lived in NY. New York is so commercial and glossy now. All the dirt-bag charm the city used to have is completely gone and replaced by Starbucks, hipsters and mirrored high-rises. Now that I completely went off-topic, lets get back on track. My apologies.
First of all lets talk about the packaging. It is perfection! Best packaging Urban Decay has EVER had. UD kept the integrity of the art pieces completely intact which made me very happy. They minimized their own logo and made Jean-Michel Basquiat's signature the focus. UD even put a crown made of plastic to open the package (the crown is Jean-Michel's logo). UD went all out on this, wrapping the entire palette inside and out using canvas and printing it all using the works of Jean-Michel. As an added bonus UD added a cut out to the backside of the package to allow for hanging the palettes on the wall as art – brilliant!
Each palette was named after the painting that graces it, the neutral eye shadow palette is called Gold Griot and Basquiat painted it in 1984 with Oil and oil paintstick on wood, sized at an impressive 117 x 73 inches  (shown on left).
All the neutral colors in this palette are pulled directly from Basquiat's work. Unlike the Tenant palette, many of the colors in Gold Griot may be similar to other shades I have in different palettes . However, I do not care because this palette feels more special in the hand, and, Yes, it is more special because of the packaging and fact that this palette is a limited-edition.
If you already own one of the other Naked palettes by Urban Decay, or you have a neutral palette that you love, there is no reason to buy this palette. Unless, of course, if you are a Basquiat fan like me, or happen to be on the market for a new neutral palette.
This eight-color eye shadow palette includes the following colors:
Enigma (neutral pale nude matte)
Levitation (warm pale nude matte)
Not For Sale (medium sienna matte)
Suckerpunch (warm brown shimmer)
Influence (brown satin w/gold shimmer)
BK (gray matte-satin)
Pseudonym (deep navy matte)
Crown (very metallic gold)
Like every palette, from every brand, there are some colors that do not apply perfectly. The problematic colors in this palette are; Enigma, it has little to no pigment and a very chalky texture, Suckerpunch, while a beautiful color does apply patchy and it needs to be blended well, and lastly, Pseudonym, this color is supposed to be a deep navy matte shade and it applies as a dark charcoal gray matte shade. ALL of the colors have some fallout, some worse than others. My swatches are on the right.
Urban Decay Ud Jean-Michel Basquiat Tenant Eyeshadow Palette
 is graced by the Untitled (Tenant) painting that Basquiat painted in 1982 (shown on right).  This palette has the exact same packaging features as the Gold Griot palette does, however, in my opinion this palette is the superior one. The colors of the shadows in this palette are the first reason I think this palette is superior. This eight-shade palette includes the following colors:
Studio (Pale Pink Matte)
1960 (Bright Pink Matte)
Neo (Rich Aubergine With Micro-Shimmer)
Les (Charcoal-Black Matte-Satin)
Graffiti (Deep Metallic Green)
Exu (Bright Green Shimmer)
Boom (Bright Teal Matte)
Untitled (Rich Deep Blue Matte)
Each of the above mentioned shades are very highly pigmented. Not one of these shades are lacking in this area. The texture of the shades overall feel more silky and buttery than the Gold Griot palette and last, but not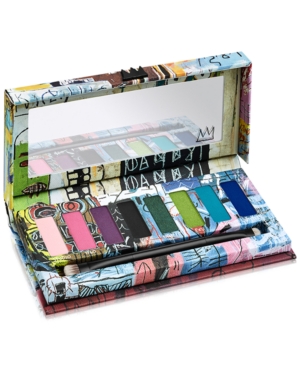 least, this palette is a lot more versatile than you would think. I have seen many YouTubers post tutorials using this palette and they all did very bold and daring gorgeous creative looks. However, it is impractical that the typical person would be able to wear this kind of look in real life, or even have the time needed in the morning to put it together. What I actually found with this palette is that because it is so highly pigmented it is very easy to do a single swipe shadow color across the lid in a corresponding color to your eye color, i.e., if you have Green Eyes you could use Neo, Les, Graffiti, or Exu on their own. Brown eyes would look great with Studio, Graffiti,  1960, Neo and Untitled. Blue eyes would look good with Untitled, Boom, Les, and Studio.
The only shade that I found to be problematic was Grafitti, it is a little patchy and requires more blending than the other shades. Also, it doesn't show as green on the skin as it does in the palette, it has a gray undertone to it.
Do not let these colors intimidate you. They are gorgeous and very wearable! Swatches on the left.
Urban Decay Ud Jean-Michel Basquiat Gallery Blush Palette
 works very well as a stand-alone blush palette, or to be accompanied with shadows from either Tenant or Gold Griot. Just like the eye shadow palettes the packaging on this is beautiful, and is wrapped with Basquiat's Untitled (Crown) painted in 1982 with Acrylic, ink, and paper collage on paper sized at 20 × 29″. Shown on left.
The Gallery Blush Palette is actually two blushes, a highlighter and a bronzer that could also be used as a contour. All four colors are on point and would work well with a myriad of skin tones.
The shades are as follows:
X-Rated (Medium Pink)
Now's The Time (Gold-Champagne Shimmer)
Jawbone (Medium Bronze)
NOHO (Radiant Berry)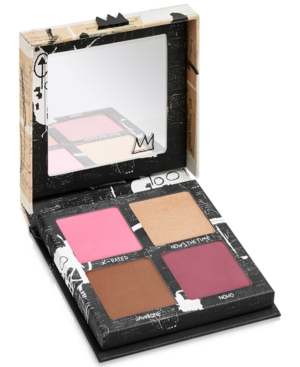 The Highlighter, Now's the Time, is much better than expected. It is silky and can be layered for a dramatic look or blended out for a more subtle highlight. X-Rated is a very pretty Medium Pink color, however, it is a bit chalky and can be spotty if you don't blend. NOHO is a gorgeous Radiant Berry color that goes on amazingly, it is richly pigmented and has a very silky texture. Jawbone, a medium bronze is actually a good bronzer because it does not have any shimmer in it. It can be used as a contour, but must be used with a light hand to look natural because it does not have any gray undertones which would make it look more like a shadow. All of the shades are long lasting and I was very pleased with this face palette.
All art depicted in this article is protected by Copyright © Estate of Jean-Michel Basquiat, all rights reserved. 
Disclaimer: All products reviewed in this article were purchased by Beauty Ballerina at full price. Beauty Ballerina was not compensated for this article. This article does contain affiliate links.